Other Guns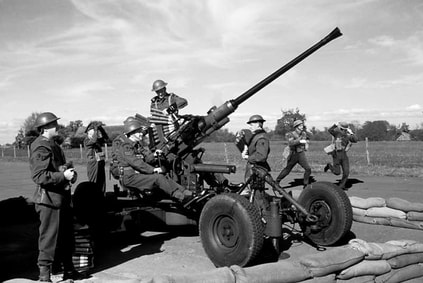 BOFOS ANTI-AIRCRAFT GUN

The Bofors 40mm anti-aircraft gun is a highly effective and widely used anti-aircraft weapon. It was first used by the Swedish Navy in the early 1930s and has since been used by numerous countries around the world. The gun is a short-barreled, fully automatic, multi-barrel, low-velocity weapon designed to fire 40mm shells at a rate of up to 120 rounds per minute.

The Bofors 40mm anti-aircraft gun is composed of the gun itself, a firing platform, and a sight. The gun is made up of a number of components, including a barrel, a recoil system, an elevating mechanism, and a traversing mechanism. The barrel is made of steel and is capable of withstanding high temperatures, while the recoil system is designed to absorb the recoil of the gun and minimize the amount of vibration transmitted to the firing platform. The elevating mechanism is used to raise and lower the barrel, while the traversing mechanism is used to rotate the gun from side to side.

The gun is fired from a firing platform, which is typically mounted on a tracked or wheeled vehicle. The platform provides stability for the gun and also helps to absorb some of the recoil from firing. The sight is used to aim the gun and is typically mounted on the top of the platform. The sight includes a rangefinder, which is used to measure the distance to the target, as well as an optical system for aiming the gun.

The Bofors 40mm anti-aircraft gun is a highly versatile weapon and can be used against aircraft, ground targets, and even ships. It is capable of engaging targets at ranges of up to 8,000 meters and can fire up to 300 rounds per minute. The gun is also highly accurate and capable of engaging multiple targets simultaneously.

The Bofors 40mm anti-aircraft gun is an effective and reliable weapon and has been used by many different countries around the world. It is still in use today and is a popular choice for anti-aircraft defense.

There were 2 Bofos 40 mm guns at Capel Battery. An anti-aircraft gun designed in the 1930s by the Swedish arms manufacturer 'AB Bofors'.

The gun fired a 2.0lb high explosive 40 x 311R (rimmed) shell at 2,950 ft/s.

The rate of fire was normally about 120 rounds per second.
The maximum attainable ceiling was 23,600 ft, but there practical maximum was about 12,500 ft.

The gun was provided with an advanced sighting system. The trainer and layer were both provided with reflector sights for aiming, while a third crew-member standing behind them "adjusted" for lead using a simple mechanical computer. Power for the sights was supplied from a 6V battery.
---
THE BLACKER BOMBARD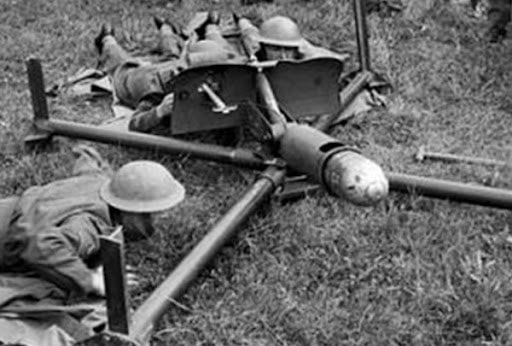 The Blacker Bombard was a British anti-tank weapon developed during World War II. It was the first recoilless artillery piece to be adopted for service by any country. The Blacker Bombard, or "Petard", was designed by Captain (later Major/Colonel) E.C. Blacker of the Royal Artillery in 1940. The weapon was a response to the German tanks that had been encountered during the Battle of France. The Blacker Bombard was designed to be used as a direct fire anti-tank weapon, capable of destroying the heavily armored German tanks from close range.

The Blacker Bombard was a 29mm spigot mortar. It consisted of a firing tube with a spigot at the front that was loaded with a hollow charge round. The spigot was then fired by a percussion primer, which caused the round to detonate on contact with the target. The Blacker Bombard was a lightweight and portable weapon, and could be easily moved around the battlefield.

The Blacker Bombard was first used in combat during the Battle of El Alamein in October 1942. It proved to be an effective weapon against the German tanks, and was used throughout the North African and Italian campaigns. The weapon was also used by British paratroopers during Operation Market Garden in September 1944.

The Blacker Bombard was later superseded by heavier and more powerful anti-tank weapons, such as the PIAT (Projector Infantry Anti-Tank) and the later Bazooka. However, the Blacker Bombard had served its purpose, and had proven to be an effective and reliable weapon in the fight against the German tanks.

To this day, the Blacker Bombard remains a symbol of British ingenuity and innovation during the war. It was one of the first modern anti-tank weapons, and was highly effective in its role. The Blacker Bombard was a major contribution to the Allied victory in World War II, and is remembered as an important piece of British military history.


Also know as the 29mm Spigot Mortar

4 were located located at Capel Battery.

Mainly use to equip the Home Guard units with snit-tank weapon in case of German invasion, few, if any, saw combat.

Weight 112lb with mobile platform 360lb.

It fired a 20on high-explosive bomb to range of 100 yards; when the bomb detonated.

Only manufactured in 1942 with 22,000 produced.
---
Signot Ammunition ListAnti-tank H.E. 20-lb. bomb
Propellent: 270 gr (17 g) of cordite
Bomb weight: 19.5 lb (8.8 kg)
Filling: 8.75 lb (3.97 kg) of Nobels No.808 explosive.
Described as "gelatinous" in training pamphlet.
Length: 26 in (0.66 m)
Diameter: 6 in (150 mm)
Fuze: No. 283 Mark I in body of bomb
Anti-tank practice inert 20-lb. bomb
painted black
single use
filled with inert material
could be used for demonstration or ranging shots
Practice inert 15/20-lb. bomb
Used with practice cartridge of 185 gr (12.0 g) cordite, it had the same trajectory as 20lb bomb out to 200 yd (180 m). This practice round could be fired up to 15 times against soft targets/ground.
Weight: 15 lb (6.8 kg)
Filling: concrete
H.E. 14-lb. bomb (anti-personnel)
Propellent: 308 gr (20.0 g) of cordite
Bomb weight: 14.75 lb (6.69 kg)
Filling: Nobels No.704B explosive or Amatol 80/20.
Fuze: No. 152 (same as ML 3-inch mortar) in nose of bomb
Danger area: 300 yd (270 m) from bursting point
Killing area: 100 yd (91 m) from bursting point
In addition there was a drill example of the anti-tank round.
---
2 X 75MM SQ GUNS (AMERICAN)

2" UPS (Unrotated projectile rockets)

Small arms there had Bren guns, Thompson M1A1 SMGs, Sten Guns, Enfield 303 Rifles, and A 7.92mm Solothurn machine gun (Hungarian)

Others were No36 Mils Grenades and No69 Grenade
---